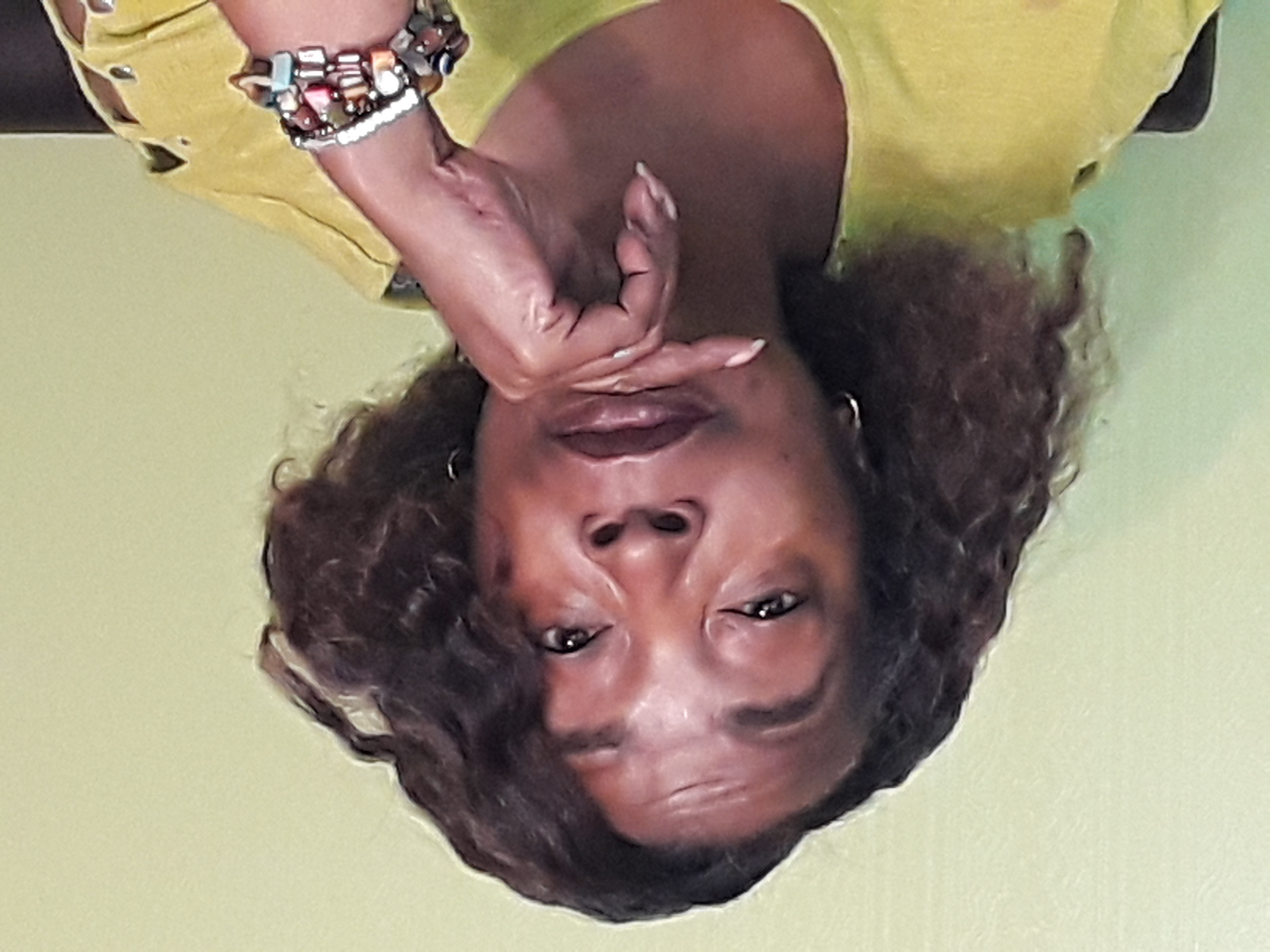 Cathy Keith
Shop Your Way App
Shop Your Way app was designed to help consumer contact other consumers that have the same interest as theirs.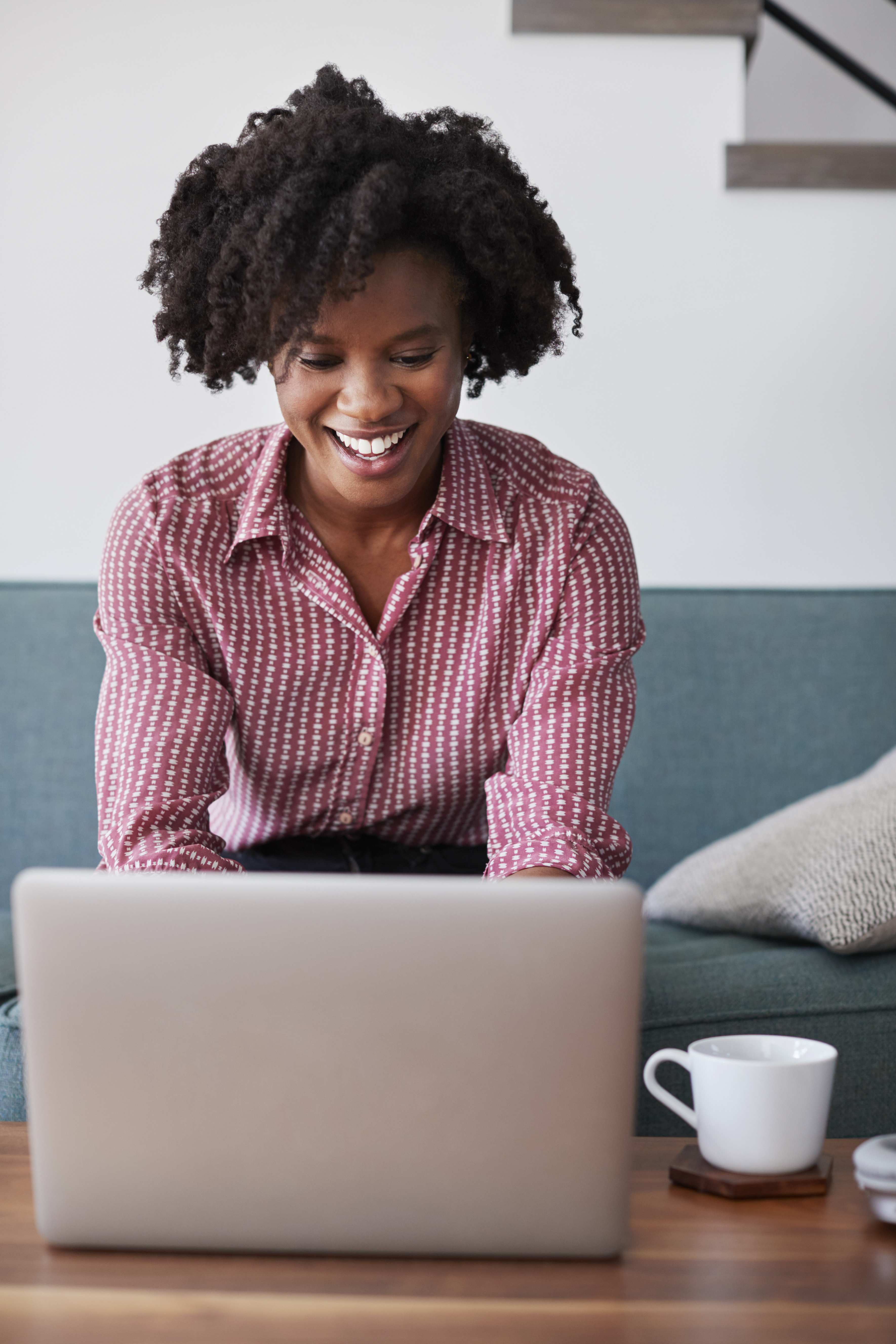 Problem
This project was created from another project I was included in but could not use in my portfolio because of the NDA agreement. However, the client came back and allowed me to use some of the designs without disclosing their product information.
Solution
I modify the app features to only concentrate on the consumers' wants and desires and also give them a user-friendly experience. Shop Your Way app gives consumers a way to reach out privately via email.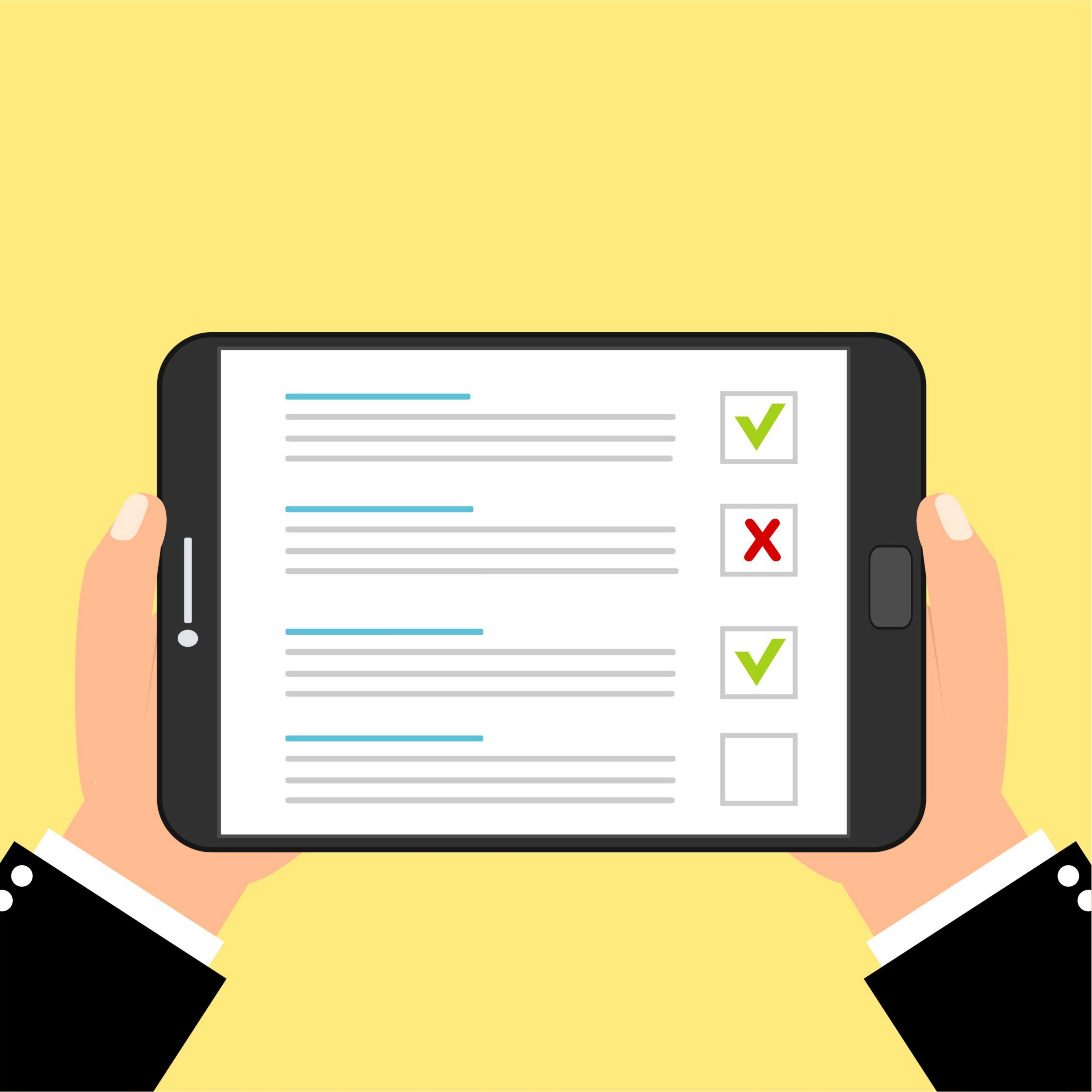 Surveys
I decided to do on-line short brief surveys to learn more about the user's current experience with online shopping and to uncover any pain points in their journey.
There were a total of nine individuals that participants who responded to my survey out of ten surveys. To learn more about the current user's online shopping experience and to uncover any pain points in their journey. Users want to see consumers who look like them. Users want to find items and similar products easily.
Suggestion: different feeds for different categories (i.e., home decor feed, clothing feed, skincare feed)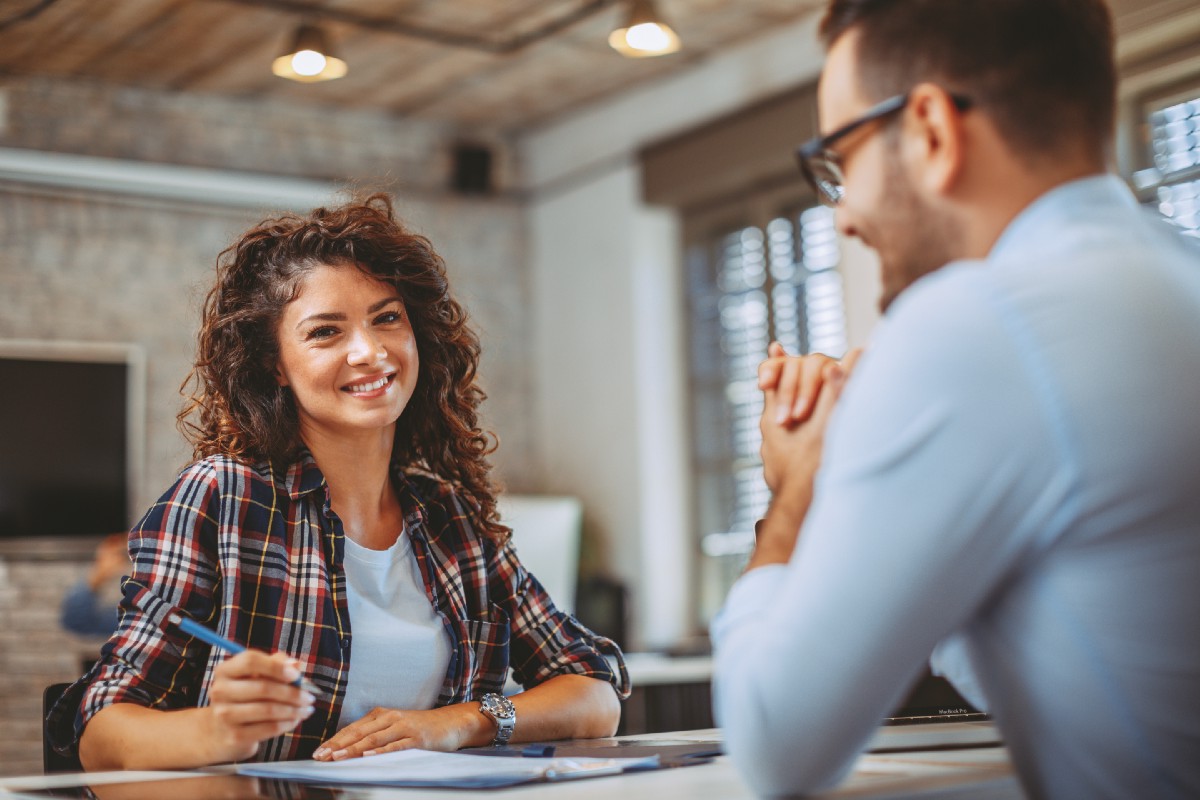 Interviews
Using the reach and discovery method helps formulate insights and develop hypotheses about our clients' needs and their experiences with our product or service.
Some of the research questions included were:
How difficult was it to find links to purchase products using current social media channels.
How difficult was it to find other consumers that align with his/her personal interests and style?
Was it difficult to keep track of the products that you wanted to purchase at a later time?
There was a total of nine participate involve in the interviewing process.
The changes I implemented based on the insights made the onboarding process more streamlined by creating a drop-down menu to select from a range of heights.
This will make onboarding smoother because the user does not need to type anything in but will have better recommendations.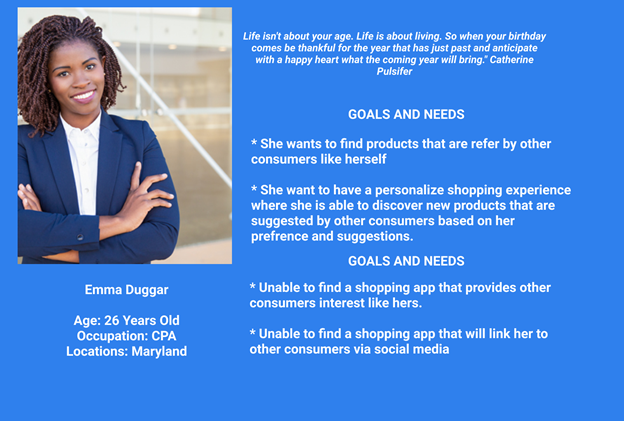 Personas
Using the data from my user research and the stakeholder requirement, I decided to create a consumer "Emma" to analyze her "Goals, Needs, and Pain points," which gave me a better insight into what the consumer desires were.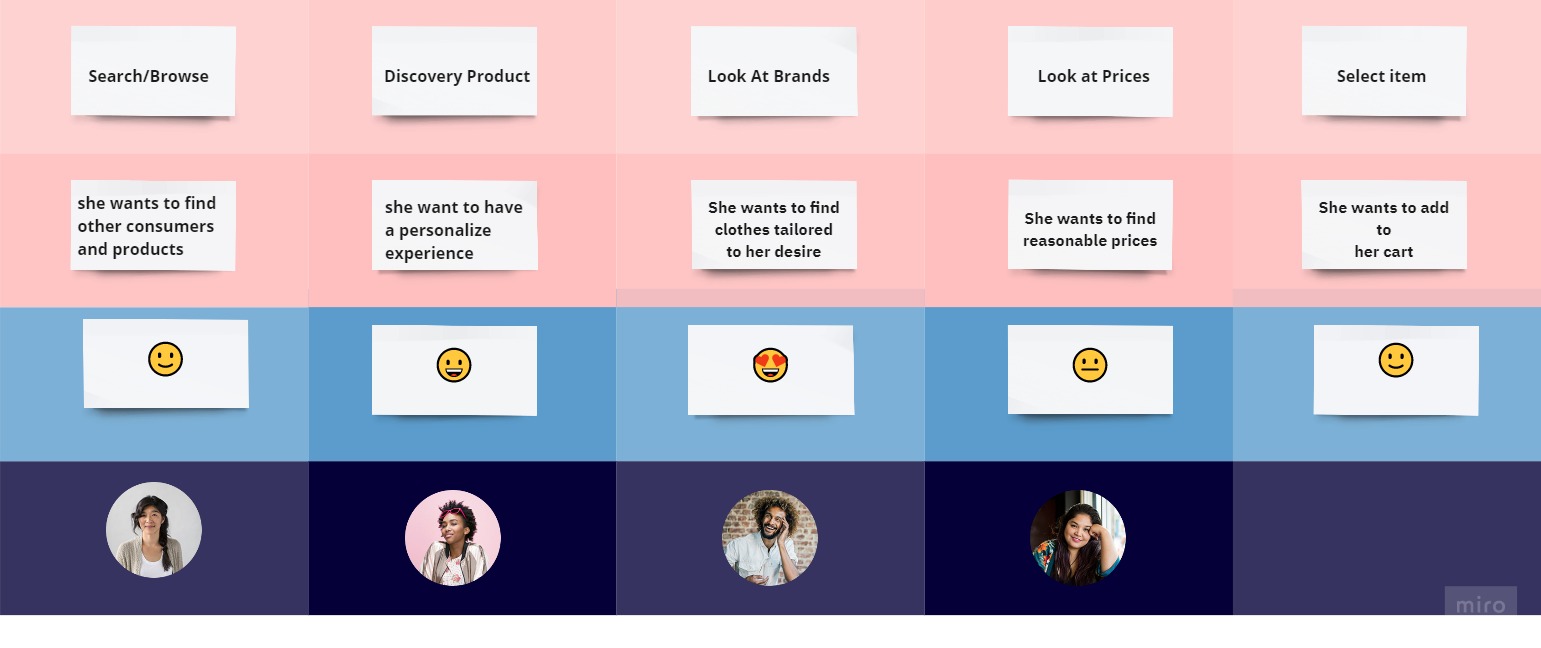 User Journey
Using the pain points, I decided to develop and ideate solutions for the app. Generating potential solutions to the user pain points using the "HMW" method. With this brainstorming exercise, I generated lots of ideas for how I wanted to design the final product.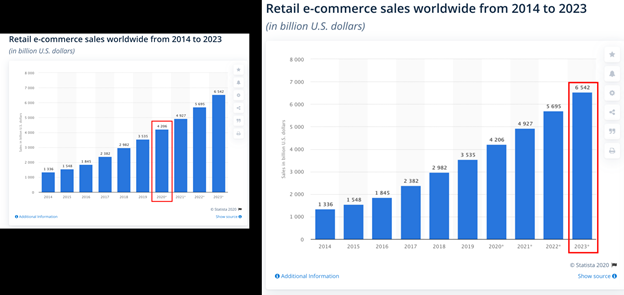 Competitive Research
Based on the "15 Eye-Opening Online Shopping Statistics for 2020" by Statista, the revenue for Retail e-commerce sales worldwide has tripled from $1.3 trillion in 2014 to $4.2 trillion in 2020.
This amount is expected to rise through 2023 to a predicted $6.5 trillion. Now, with the influence of COVID 19, there are no signs of these trends slowing down.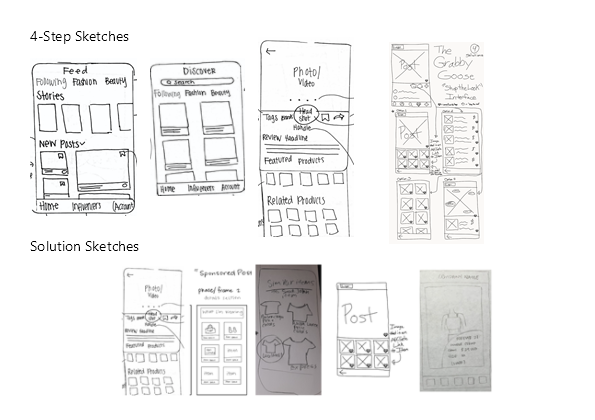 Sketches
I started the design process with low fidelity wireframes. This is the way I iterate through many design options quickly.
The main purpose of creating sketches was to brainstorm to see how to come up with solutions.
I created three different versions to ensure to cover everything the client suggested or wanted to see in the app. The main differences among these versions were different online shoppers' age, gender, and shopping habits.
I decided to combine all sketches and create a vs.3 because it included everyone.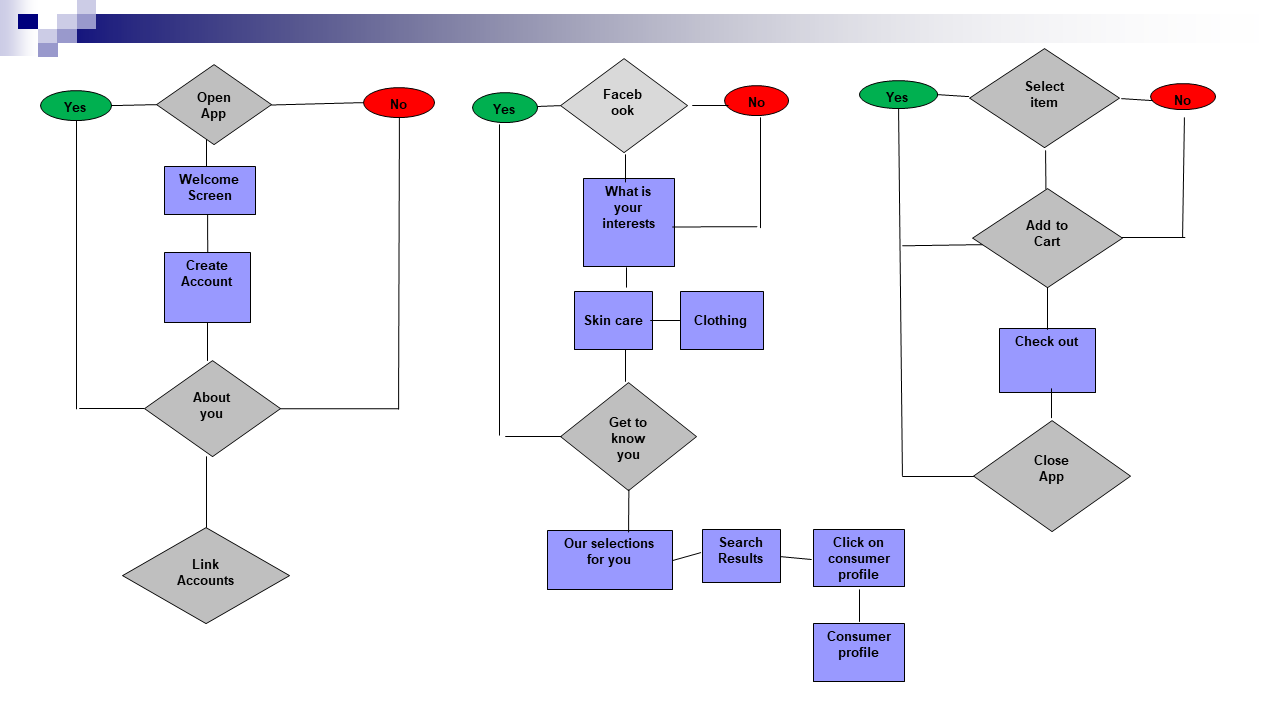 User Flow Chart
This is the onboarding user flow for when a consumer first creates an account.
Since this app is to provide a personalized shopping experience for its users, when you first create an account, you will complete a survey to link your other social accounts, select your interests, and fill out other details such as your style and size. This way, you will have a completely personalized shopping experience as soon as you open the app.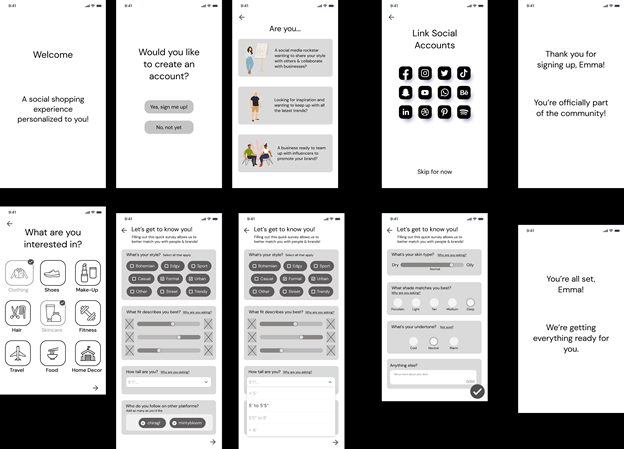 Wireframes
At the beginning of my design process, I created wireframes for testing purposes.
A low fidelity wireframe aided me in determining whether to add or subtract features in an interface. Plus, using low-fi wireframes is quick and easy to reshape and allows usability testing before further design and development efforts.

User Testing
Before launching the product, I did testing round to reveal possible usability problems.
I sent out a screener survey to recruit participants. Selected participants to participate in a user interview, and a usability test.
For the usability test, I used Maze to record heat mapping, errors, and the time each task took to complete and also Maze allowed me to link my Figma files.
The three scenarios I focused on were: Onboarding and creating an account

finding consumers, and

Find an affiliate link to purchase a product.
Final Thoughts
I want to do another round to develop better prototypes and test them out again with various users. I need to really examine issues that popped up, like icons that visually represent what users expected, prototyping the other user flows, and adjusting visual elements in the design, text, and button items. Once I get a little more details, I can start thinking about higher fidelity wireframes and prototypes and eventually giving the new wireframes and prototypes to the coding team.
I would also recommend these fixes for the development of a more desirable app.
In-app content must feel genuine, trustworthy, and relatable. It should feel like a recommendation from a friend, not an advertisement. Make sure people do not feel like they are bombarded with advertisements but are getting valuable product recommendations to help guide their purchasing decisions.

Shopping apps must allow people to filter through specific products or category types. Additionally, I would recommend having different feeds for different types of products. (i.e., home decor feed, clothing feed, etc.) People have expressed interest in being able to filter through their feeds for specific colors and styles.

Consistency across familiar interfaces is key to providing an enjoyable user experience. People enjoyed the familiarity they felt with apps like Pinterest and Instagram. Iconography should also be consistent with other apps.
With these changes in mind, I believe that this new app can positively impact the online shopping community. I have learned that there is a need for this product on the market and that people desire to have a customizable shopping platform tailored to their specific interests and needs.